More info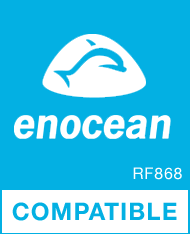 EMDCA is a self-powered ceiling-mounted sensor that monitors the environment for person movement and measures ambient light level both via a dedicated illumination.
Under standard operation conditions, EMDCA is self-supplied via its solar cell in conjunction with an internal energy store which enables EMDCA to operate 4 days in absolute darkness.
Key applications include lighting control based on presence and ambient light level as well as occupancy monitoring.
EMDCA reports motion detection and illumination measurements wirelessly using the EnOcean radio standard and therefore does not require any wiring.
Key parameters of EMDCA can be configured using the integrated NFC (ISO 14443) interface. Additionally, as simple user interface consisting of one button, one switch and one LED allows for simple configuration without additional tools.
EMDCA reports regularly the measured light level and the status of the motion detection sensor. The motion sensor of EMDC is permanently active so that initial motion will be reported immediately.
EMDCA supports secure communication with AES-128 encryption and authentication based on a random, device-unique private key.
FEATURES :
PIR motion sensor with luminosity sensor
Communicates wirelessly with other devices using the EnOcean wireless standard.
Self-powered. One integrated solar cell enable indoor light energy harvesting to power the device and eliminate the need for wires or batteries.
Device configuration and commissioning with NFC interface
Internal tray accommodates supplemental coin cell battery for use in low light environments.
TECHNICAL SPECIFICATIONS :
Radio Frequency / Data Rate: 868.3 MHz / 125 kbps
Transmission Power: +5 dBm
Transmission Range (for guidance only): typ. 200 m free field / 30 m indoor environment
Recommended Installation: Ceiling-mounted at 2.5 m … 3 m height
Motion Detection Radius: typ. 5 m when installed 2.5 m high
Light Level Sensor Range / Accuracy: 0 … 65000 Lux / +- 10%
Configuration: NFC (ISO 14443)
Power Supply: Integrated solar cell
Required Light Level: 200 lux for 6 hours per day
Operation Time Without Light: 96 hours
Backup Battery Type (optional): CR2032
Operation Time With Backup Battery:

Infrequent bright light (200 lux 2 hrs / day): 15 years
Consistent low light (65 lux 5 hrs / day): 12.5 years
Total Darkness: 5 years

Product Dimensions (LxWxH): 113,2 mm x 65,5 mm x 30,7 mm
Operating Conditions: 0 °C ... 60 °C Indoor use only, 20 % r.h. … 85 % r.h. Non-condensing
Radio Certifications: RED (Europe)